"As long as I live I will never
forget riding into the center under the Space Needle."
- Ty Metsker, WNBR Seattle 2004 rider

When/Where:
TENTATIVE PLANS:
This year's location is Fairview Park (Google Map) (not at Gas Works Park as in years past), Eastlake neighborhood. Saturday, July 14, 2007 (Note the change to July from June)
Ciclomundo, WNBR Seattle's body painting/art party, will start at 9 am and the ride will leave the park at 12:30 pm. Get your mutant cycling vehicle decorated and paint your comrads!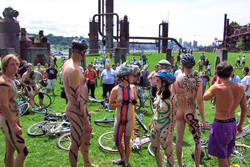 Gas Works Park sits on top of a contiminated former industrial site. According to the Wikipedia entry on the park, a web site affiliated with The Seattle Times newspaper says, "Gas Works Park is easily the strangest park in Seattle, and may rank among the strangest in the world."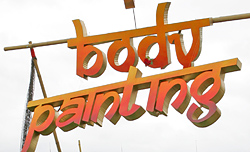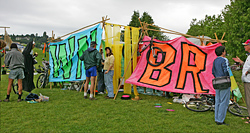 One of several bodypainting privacy areas for the Seattle ride.
You're Hired!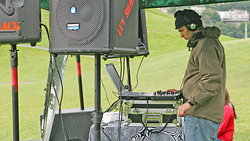 DJs Keck and Jesiah performed in 2005.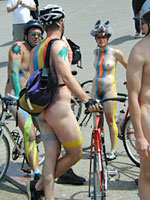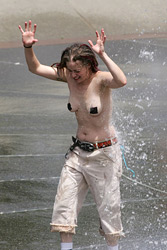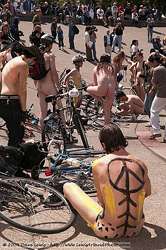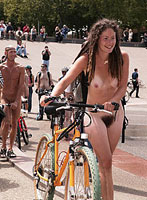 Remember to walk your bikes in and out of the International Fountain area.
Previous year's ride:
The 2004 ride was a huge hit! Click here for more info about the Seattle ride. For other cities click here.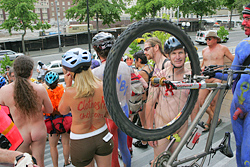 Our view from City Hall on the June 11, 2005 ride.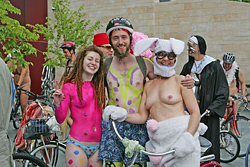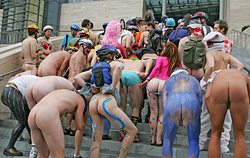 Mooning the camera on the steps of City Hall. Why?
Franz had many hand-prepared organic vegan treats for riders in addition to amazing bodypainting designs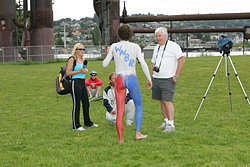 The shooting crew from Clothes Free TV came all the way from California. Unfortunately, it rained for our June 11, 2005 ride and our ride was cut in half. It always seems to rain when out of towners visit. Greg and Melanie got painted up. See their footage here.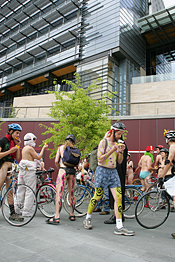 Taking a mid-ride breather at City Hall/Civic Plaza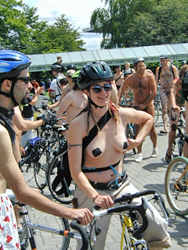 Stay tuned for other events, projects and campaigns. Come up with your own ideas!